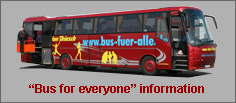 Omnibusbetrieb von den Driesch

Entenpfuhl 25
52525 Waldfeucht-Haaren
phone: 0 24 52 - 97 77 0
fax: 0 24 52 - 97 77 77
e-mail:
info@von-den-driesch.de
About us / Bus advertisements
We take your advertisements for a ride!
Advertisements on busses are a very efficient method for placing visual ads as mobility ensures for their effectiveness and high reach. Your ads are spread fast and region-wide. Our public service busses transport your advertising message throughout the Kreis Heinsberg region and our coaches even beyond the region.
A market research study by the well known polling institute Infratest shows: more than two-third of the interviewees were able to recall and name two or three of the ad motifs on omnibusses.
The advertising spaces on our omnibusses – rear and side surfaces – allow for a strong advertising message.
For a conceptual design and promotionally effective development of your bus advertisement we cooperate with our partners of media agency "scribble Werbeagentur GmbH".

Our pricings:
Rear surface: 150,- € / month
Side surface: 75,- € for each side / month
Duration: 24 months
Window surfaces not included!
We reserve the right to decide over the kind of advertisements which are placed on our busses.
Your contact person for advertisement space rental:
Mr. Willi von den Driesch
phone: 0 24 52 - 97 77 0
e-mail: info@von-den-driesch.de
Your contact person for the creative realization:
scribble Werbeagentur GmbH
Mr. Rajapreyar
phone: 0 24 51 - 4 09 33 56
e-mail: info@scribble-werbeagentur.de